News
by
RareHare
in
ROTM
, October 1, 2009 1:11 pm
Congratulations to Harepwr for winning October's Ride of the Month!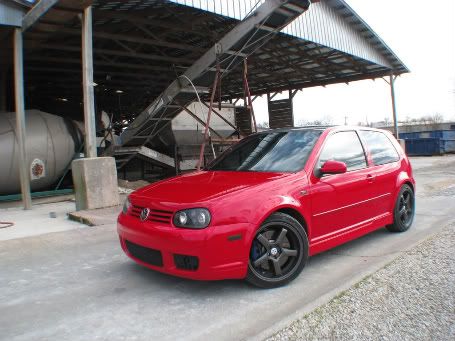 So, what is the story behind your car?
I purchased my R32 on Halloween in 2006. She came with color matched red aristos, and they were god awful. I Wish I had kept a pic though. The car came with 24600 miles and was in great shape other than the red aristos. Even the techs at the dealer were happy for me; Mike Lefew doing the delivery making sure I knew about the Vacuum flapper. He had already made it louder for me. History has since shown me that the car was owned by a kid who lived in Birmingham, worked for a body shop, and obtained it (apparently) through his parents. He obviously powder coated the wheels, but I later found the body shop card in the parking brake boot. The work done was minor damage to the passenger rear quarter, near the tail light.
I searched through dealers to find a Red R for almost a year (I wanted CPO), and was actually late a few times to purchase as I travel frequently. Time was my friend as this has been the best vehicle, hands down, I have ever owned. Just a pure joy to drive. Seriously love this car. I remember the night I test drove; I was very reluctant to leave the dealership and break the news to my wife. She knew I had been looking, but like me, she doubted I would find the "one" any time soon. I took the wife for a ride; something she hates. We went to Dominos in Chapel Hill. In that parking lot I begged and pleaded to let me keep the car; right down to promising and signing that I would never upgrade to something more expensive or spend large amounts of money modding. I've stayed true to my word thus far. All money spent on my .:R minus maintenance has been out of my "spending money". That's important on a budget with wife and 4 lil ones in tow.
This car has become a bond with my son and I. He hopes to at least drive it at 16, but we'll see. While I'm away from home he cares for her, starts her from time to time and just chills in the seats listening to my CD's. We get to wax her together, enjoy the maintenance together, and of course the 2 solid days of refinishing the wheels to a grey color to match the roof. It's been a great bond with my son, no doubt. So now I owned her, good thing too, because I was able to hide the negative equity from my 01 GTI in that BIG loan. he he I still owe more than she is worth, but it's catching up quick to the value now.
The car has been dead reliable, especially considering I drive her so infrequently. Mostly in large spurts as time at home allows. I've never had an issue that kept her off the road. There have been a few minor issues; nothing worth mentioning here. I was one of the first to experience the dreaded clear coat peel and worked with VWOA (unsuccessfully in the end) to get it repaired for myself and those to follow. As a result of this damage I had my roof painted GMC Argent Grey. The hood was repainted T red as well. I then had an issue with my Fuba antenna that required replacement. That was too expensive the OEM route. So, I sought out a Sharkfin, but not OEM types. I wanted the BMW type that was painted. I eventually found what I wanted, even came color matched to T red, which is a nice contrast on the grey roof. Reception is decent even in the boonies where I reside. I got an itch for new wheels but funds were limited. I eventually purchased Porsche twists (Knock-offs) and actually fitted the 10.5" rears with only 32mm spacers, The process did involve rearranging the pick-up points of the rear strut and bar arrangement. This was a bad idea and quickly the Twists were sold. I searched and searched until Razzorride contacted me interested in a trade. I promptly headed to Knoxville with tools to perform the swap in his driveway. Part of the deal was I drive and work in exchange for the monetary difference. I had wheel wobbles all the way back home 'cause I had the incorrect wheel bolts.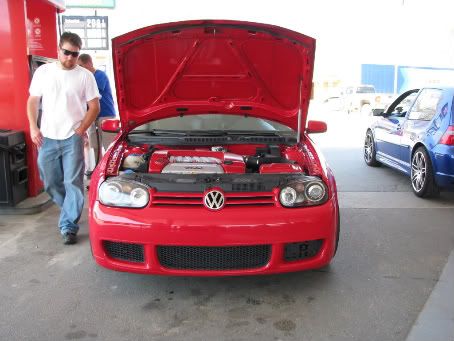 Name:
Chris Hall

Carname:
Red Sonja

Make:
Volkswagen

Model:
Tornado Red 2004 Golf R32

How long have you owned this car?
3 years

How have you decided to style it?<What's your favorite part of the car?
It's a toss up between the exhaust sound, the overall look, the seats, the visceral feel of the drive...never mind, the drive is the best part, hands down all those other parts add up to the drive.

What's your least favorite part of the car?
expensive aftermarket.

What is your most memorable/humorous/embarrassing moment with this car?
Memorable-The drive home to tell the wife I already bought it. That was hella scary. And the annual R32 trip to Tail of the Dragon. 3 years running with NorEast guys from New York.
Humorous-Probably getting it stuck on my driveway in the snow.
Embarrassing-Obviously embarrassing some EVO/STI drivers in Autocross. Yeah I got proof.

Any future plans?<Have any tips for everyone?
Do it, you only live once!

Any shoutouts you want to make?<


Mod List
Interior:
B.A.S.K big ass shift knob by Forge
35% TN legal tint
Concealed flapper switch
R line Monster mats
Rear VW cargo organizer

Exterior:
Grey roof
Visual Garage color matched Sharkfin antenna
Hella smoked side markers
Depot angel eye Projector headlights with Euro beam pattern
ECS smoked side running lights
VW logo in Company blue center caps adapted to Axis wheels
Axis wheels custom painted Grey (by son and self)
Dorky .:R cut into drivers side grill
Auto mirror deleted, replaced with Passat mirror and proper relay module

Engine:
C2 motorsports NA tune
K&N short Ram intake
ECS flapper switch
all 3 VF motor mounts

Running gear:
OEM suspension, fresh setup in hand to change out soon
UNIbrace rear strut brace
AXIS Hiro's 18x8.5 with Falken RT 615's 235/40/18 all around
ECS slotted rotors front and rear
Akebono EuroSpec front pads
Hawk HPS+ rear pads
[
19 comments
]
---
by
Russ
in
News Articles
, September 29, 2009 1:02 pm
Volkswagen is planning two tracks at its new plant in Chattanooga to check the quality of the vehicles that roll off the assembly line. One track will have several surfaces where vehicles just off the assembly line will be checked to make sure they're running correctly. A second one will be a straighter high-speed track.

No word yet on whether customers will be able to drive their new cars on the test track themselves.

More info: http://www.timesfreepress.com/news/2009/sep/25/cars-emerging-vw-get-test-drives/
[
1 comment
]
---
by
2.ooohhh
in
News Articles
, September 28, 2009 3:27 pm


More

http://www.autoblog.com/2009/09/27/mercedes-benz-pondering-c-class-production-in-alabama/
[
0 comments
]
---
by
2.ooohhh
in
News Articles
, September 28, 2009 3:25 pm


More

http://www.autoblog.com/2009/09/25/video-mike-rockenfeller-guides-a-tour-of-the-audi-pit-at-petit/
[
0 comments
]
---
by
Russ
in
News Articles
, September 21, 2009 1:44 pm


More info: http://wheels.blogs.nytimes.com/2009/09/21/vw-reconsiders-phaeton-for-us/
[
1 comment
]
---
by
2.ooohhh
in
News Articles
, September 18, 2009 11:20 am

http://www.autoblog.com/2009/09/16/rip-automotive-racer-and-designer-elio-zagato-1921-2009/


[
0 comments
]
---
by
2.ooohhh
in
News Articles
, September 18, 2009 11:18 am


More

http://www.autoblog.com/2009/09/16/frankfurt-2009-2010-audi-3-0-tdi-clean-diesel-quattro-would-mak/
[
5 comments
]
---
by
Russ
in
News Articles
, September 15, 2009 5:00 pm
2 comments
]
---
by
2.ooohhh
in
News Articles
, September 14, 2009 3:20 pm



More
http://www.autoblog.com/2009/09/13/frankfurt-preview-volkswagen-1-liter-concept-158-mpg-us-tand/
[
0 comments
]
---
by
2.ooohhh
in
News Articles
, September 14, 2009 3:13 pm


Read More Below

http://www.autoblog.com/2009/09/13/brabus-e-v12-black-baron-is-cloaked-for-speed/
[
4 comments
]
---
Previous
1
2
3
4
5
6
7
8
9
10
11
12
13
14
15
16
17
18
19
20
21
22
23
24
25
26
27
28
29
30
31
Next